The last event was
1/14 Electric Category
STR season one of 2005
4th GP on 17 HB APRIL 2005
at Shell Office parking
Qualifying
Kz 17:28 sec/lap (use original Nikko radial tyre without DST)
Ezlee 18:22 sec/lap
Rasid 18:72 sec/lap
Saad 21:53 sec/lap
Race
| | | | |
| --- | --- | --- | --- |
| POS | RACER | ROUNDS COMPLETED | TOTAL POINTS |
| | Ezlee | 9 of 10 | 113 pts |
| | Kz | 9 of 10 | 105 pts |
| | Rasid | 8 of 10 | 96 pts |
| | Saad | 7 of 10 | 75 pts |
2003

1/14 Electric Category

STR 2nd season of 2003

Final GP on 18th Oct 2003

at PD Perdana Resort

Champion for the PD Perdana GP: Rashid, Citroen Xsara collected 100 pts.

Overall 1/14 STR Champion: Lady RMM, Porsche 911 GT1 with total of 487 pts.
Nitro STR 2003
Final GP on 11Oct 2003 at DS 2nd Track.
Final GP Champion: Kz RMM 22 pts.
Overall Nitro STR 2003 Champion: Kz RMM 70 pts.
Archive
Thursday Evening Race
10th Jan 2002 5.30pm Standard Motor Category
Trek Dataran Segar (D S Track)
Perlumbaan pada petang itu dihadiri oleh 7 orang pelumba terdiri daripada Bob Sauto, Jeff, Kuzaks, Saad, Arry, Lady RMM dan Londz. Bermula pada pukul 5 petang dengan acara kelayakan (ujian masa), dimana setiap pelumba membuat 5 laps untuk mendapatkan masa terpantas. Masa terpantas telah dibuat oleh Jeff dengan keretanya, Mitsubishi Evo dengan catatan masa 13.80 saat/lap.
Total Race pada hari ini dimenangi oleh Jeff dengan kutipan 37 points, kedua Arry 33 points, ketiga Lady RMM 26 points.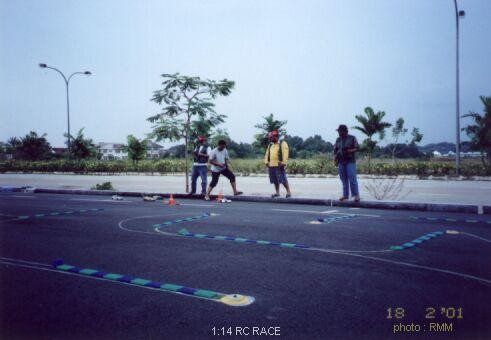 PDRCC Club (PD Radio Control Car Club)
This club exclusively for radio control car fan. Precisely for Nikko ES scale size 1/14 for the time being. Our main activities is radio control scale model car racing. We race on weekend also some weekdays when possible.
Our site is about a RC car race club, we might include information about recent race made by our members.
SILA PERGI KE PAGE
Bulletin Board
UNTUK RUANGAN FORUM
Copyright ©2000, 2001, RMM RC PD RCC Club.